Sale!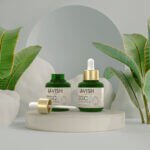 Vitamin C Serum 30ml (Limited Edition)
LAVISH COSMETIC Vitamin C Facial Serum uses one of the most researched and proven ingredients in modern skincare to create the ultimate skin brightening serum. Vitamin C has also been shown in numerous studies to increase collagen production, a significant factor in wrinkle reduction. This renowned facial serum combines the power of Vitamin C with SQUALANE and other natural antioxidants such as Astaxanthin, Vitamin E, Rose oil and Green Tea to create a highly effective anti-aging serum that goes on smoothly, absorbs quickly, and delivers visible results.
This state-of-the-art formula:
Protects skin from environmental stressors
Helps reduce discoloration and hyperpigmentation
Combats fine lines and wrinkles
Naturally helps to firm and tighten skin
Improves clarity and brightness
Creates skin luminosity and glow.