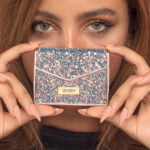 Ultimate Glow Eyeshadow Palette
If you're looking for a way to add some color to your life, Ultimate Glow Eyeshadow Palette from LAVISH might be just the ticket.
These portable boxes of color can be used to create a variety of looks, from subtle shadows to dramatic hues. And they're easy to use, just swipe on the colors you want, and blend them together for a unique look.
How To Use:
1. Build your base with matte shadows.
2. Pick up the metallic shades using a dense flat brush for a softer finish. For a fuller coverage foil effect, use your fingers or sponge applicator.